It snowed in California, Washington, Oregon, and Colorado this week, so I guess it's okay to start talking about chopping down Christmas Trees for the holidays. In fact, many families have a time-honored family tradition of chopping down Christmas Trees over the Thanksgiving holiday which is just around the corner. Hard to believe it's here already.
Chances are you will hike a mile or more into the woods or deep into the tree farm to find the perfect Christmas Tree. The last thing you want, is to have a bad experience or have your tree die prematurely. Follow the tips below to have fun and extend the life of your Christmas Tree.
Tips for Chopping Down Christmas Trees:
Plan Ahead: If this is your first time chopping down your own Christmas tree, here are a few things you need to bring along for the event. Most important is a sharp, bow saw. Do you remember the look on Clarke Griswolds face when he realized he had hiked for miles and had left the saw in the car? You should also bring, gloves, warm clothes, plastic to wrap the tree, and rope if you plan to tie the tree to the roof of your car.
Picking the Perfect Tree: Be sure to select a tree that will fit in the space you have at home. Make sure it will fit in or on your car as well. Don't worry about perfection. If the tree is missing a branch or two, you can turn that section towards a wall or fill the space with larger ornaments.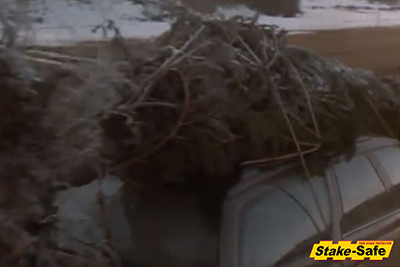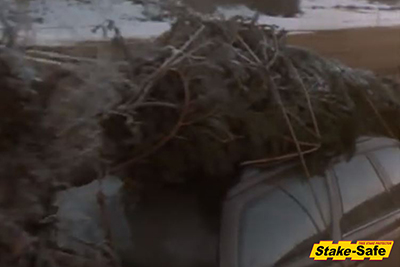 Choosing a Species: Check out our article on the most popular Christmas Trees. Short needle trees include Spruce Trees, Cedars, and Junipers. For medium length needles look for a Scotch Pine. The needles on White Pines are longer and softer.
Skip the Dead Trees: Pass over any trees that already have brown needles. Shake the tree to see if an excessive number of needles fall off. This is an indication of an unhealthy tree that may not survive the holiday season.
Have Fun: Our annual pilgrimage of chopping down Christmas Trees always turns out to be a fun time, especially for the tiny tots in tow. Bring along some hot chocolate, take the kids on a hayride, and don't forget to visit Santa when you go to the Christmas Tree Farm.
Water ASAP: It's important that you can get your freshly cut tree back home in just a few hours before the cut surface begins to dry out. In just 24 to 48 hours the tree can seal itself. Be sure to check the water level twice a day for the first few days and add more as needed.
Tree Planting Tips
If your long-term plan is to plant your own Christmas Trees in your backyard for future use, be sure to check out our articles on: Tree Planting Depth, How to Properly Stake Newly Planted Trees, & the Top Three Christmas Trees.
http://stakesafe.com/wp-content/uploads/2017/11/Christmas-Tree-Griswold-FL.jpg
565
848
EricT
http://www.stakesafe.com/wp-content/uploads/2017/03/Logo-560x156.png
EricT
2017-11-05 13:26:05
2017-11-05 13:26:05
Chopping Down Christmas Trees | Tree Chopping Tips for the Novice