The best time of year for planting young trees is dependent upon several factors. The specific climate for your region is a major consideration in determining the best time for planting young trees. You need to be familiar with the parameters of the climate in your area when planting trees in your yard. As an example, in the deep-south you should avoid transplanting trees during the extreme heat of mid-summer. This is especially true in dry hot climates. The intense summer heat can stress your newly planted tree. When the heat is severe, the effects can be devastating for young trees.
Conversely, in Northern, colder climates, you should try to avoid planting trees in the very late fall, just prior to the first frost. Your young tree will need time to acclimate to its new home before winter sets in. The roots need to be well established to take advantage of the final rains of fall before the dormant season kicks in. You want to avoid the chance of exposure to an early surprise frost which will impose undo stress on the new trees.
The Best Time for Planting Young Trees
Zones 4 through 8
For the most part, the best time for planting young trees in much of the country is late summer or early fall. This is true for most species of trees planted in zones 4 through 8. By choosing this time frame you avoid both the extreme heat of summer and the risk of an early frost. Refer to the Hardiness Zone map to see if fall into this category where you live.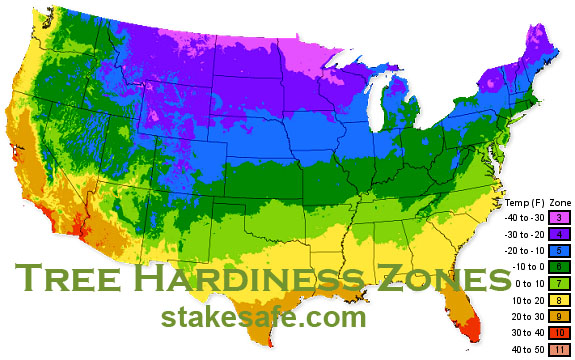 Planting Trees in Zones 1 through 3
The planting season in zones 1 through 3 is much shorter and requires a completely different approach. You will struggle just to dig a hole until the ground has warmed up. At that point, the window before the ground freezes again may only be a few months. In these zones, you should plant young trees in early spring just after the ground thaws. If you wait until fall, the trees won't be established enough to survive the severe temperatures of winter.
Planting Trees in Zones 9 and 10
Fall is the best time for planting young trees if you live in the deep south in zones 9 & 10. In these zones the winter temperatures are not as severe and your young tree can easily survive the short dormant season. During the mild winter months, your newly planted trees will continue to establish a root system that is strong enough to survive the hot summer months.
While this article provides a general overview of the planting season with generic advice, you should read our article on planting certain classes of trees. In that article, we discuss more specific requirements for various species including deciduous trees, evergreens, and conifers.
Contact Us:
If you have additional questions about planting young trees in your yard, and how to properly install our Stake-SAFE tree stakes, drop us a line. Contact the Stake-SAFE Customer Support Team
http://stakesafe.com/wp-content/uploads/2017/04/Planting-Young-Trees-FL.jpg
565
848
Eric
http://www.stakesafe.com/wp-content/uploads/2017/03/Logo-560x156.png
Eric
2017-04-15 11:34:02
2017-05-17 21:26:57
Planting Young Trees | When is the Best Time