The need for pruning upper branches becomes inevitable as your trees mature. In many cases the upper tree limbs can grow dangerously close to power lines and other structures. The trees sprawling branches may extend near your home, covering eave gutters, or worse contacting roof shingles or the side of your house.
It can be very difficult to prune or to completely remove these high branches in a safe manner. Climbing an unstable ladder can feel awkward and in many cases, could be quite dangerous. This is especially true if you are afraid of heights like I tend to be. A far better solution is to head to your local hardware store to purchase Extendable Shears or a Pole Saw with extended reach. For heavier limbs a Telescoping Chain Saw will do the trick. When pruning upper branches and tree limbs using one of these specialty tools, your feet will be planted firmly on the ground for safety.
---
Pruning Upper Branches with Extendable Shears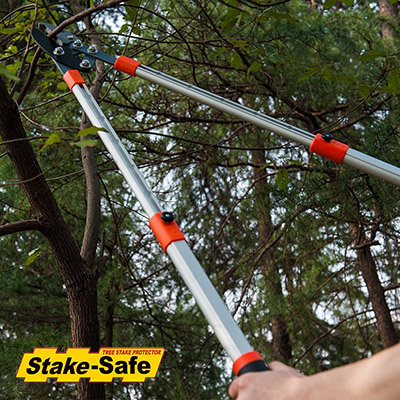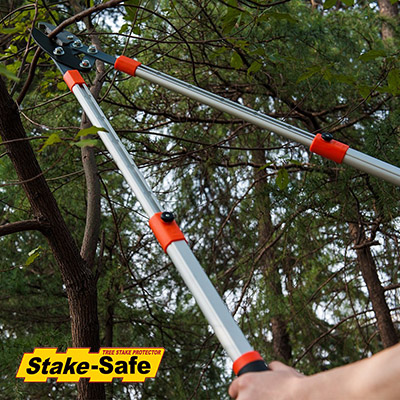 Extendable shears are great for pruning smaller branches with ease. The design of most pruning shears is based on the lever principle. The leverage allows you to lob off small branches with very little effort. The lever action generates 3 times the force at the blades. The model shown in the photo can be extended from 27 inches to 40 inches. You can easily reach branches that are up to 10 FT from the ground.
---
Pruning Upper Branches with an Extendable Pole Saw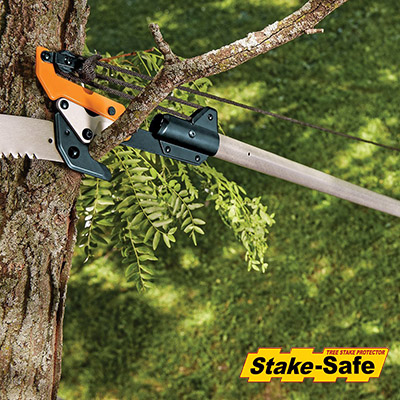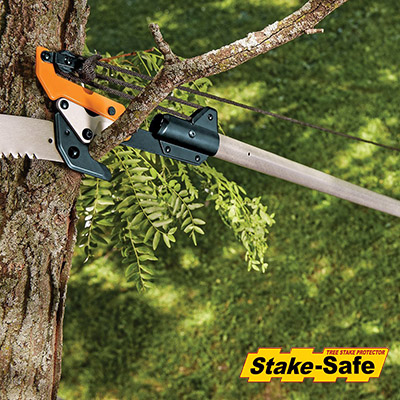 If you can't quite reach the upper branches with the extended pruning shears above, you may need an extendable pole saw. The Fiskars Power-Lever Extendable Pole saw in the adjacent photo can prune branches as high as 20 FT from the ground. The pole itself extends from 7 FT for lower branches to 14 FT to access those higher, hard-to-reach branches.
This particular model by Fiskars, is a dual-purpose tool. The 15-inch WoodZig saw blade on the end of the pole can be used to cut heavier limbs. The tool also features a precision ground pruner that is capable of cutting branches that are up to 1-1/8" in thickness.
---
Pruning Heavy Limbs with a Telescoping Chain Saw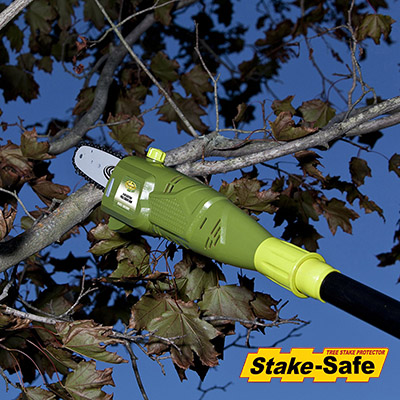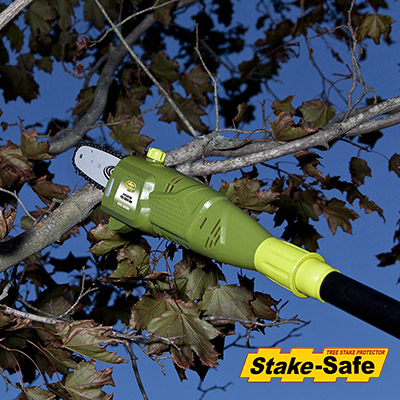 If you need to trim heavy limbs in the upper portion of your trees you may need to step up to a Telescoping Chain Saw like the one in this photo. The saw extends to a length of 9 FT which enables a reach of 15 FT for the average user. The heavy-duty, 6.5-amp electric motor chain saw will cut through heavy branches that are up to 7-1/2" in diameter.
---
Quick Tip
If the upper tree limbs are growing near or over power lines, do not attempt to remove them on your own. If you happen to tear down the power lines, or worse yet you come in contact with the high-voltage lines, you will create a very dangerous situation. For safety, contact your local power company to alert them to the situation. They will more than likely trim the tree branches that are next to the power lines free of charge.

http://stakesafe.com/wp-content/uploads/2017/10/Pruning-Upper-Branches-Extendable-Pole-Saw-FL.jpg
565
848
Eric
http://www.stakesafe.com/wp-content/uploads/2017/03/Logo-560x156.png
Eric
2017-10-01 10:44:23
2017-10-01 10:44:23
Pruning Upper Branches | How to Safely Prune Upper Tree Limbs